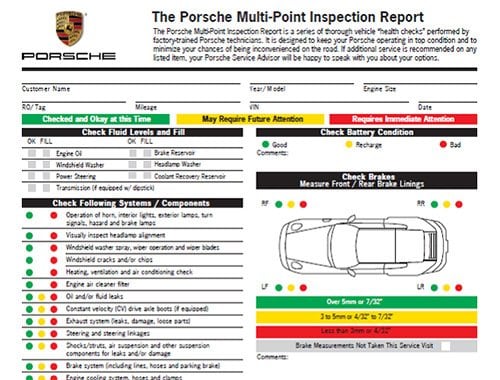 The Porsche Multi-Point Inspection
Our 27 Point Safety Inspection is a series of thorough vehicle "health checks" performed by factory-trained Porsche Technicians. It is designed to keep your Porsche operating in top condition and to minimize your chances of being inconvenienced on the road. If additional service is recommended your Porsche Service Advisor will be happy to speak with you about your options.  
Green - Checked and Okay at this time
Yellow - May require future attention
Red - Requires immediate attention
The Multi-Point Inspection Includes:
Check Battery Condition 
Check Tires
Check Brakes
Check Fluid Levels:
-Engine Oil
-Windshield Washer
-Power Steering
-Automatic Transmission Fluid (vehicles equipted with a dipstick only)
-Brake Reservoir
-Headlamp Washer
-Coolant Recovery Reservoir
Check Systems / Components:
-Operation of horn, interior lights, exterior lamps, turn signals, hazard and  brake lamps.
-Visually inspect headlamp alignment
-Windshield washer spray, wiper operation and wiper blades -Windshield cracks and/or chips
-Heating, ventilation and air conditioning check
-Engine air cleaner filter
-Oil and/or fluid leaks
-Constant velocity drive axle boots (if equipped)
-Exhaust system (leaks, damage, loose parts)
-Steering and steering links
-Stocks/struts, air suspension and other suspension components for leaks  and/or damage
-Brake system (including lines, hoses, and parking brake)
-Engine cooling system, hoses and clamps
-Radiator, heater and air conditioning hoses for leaks / damages
-Accessory drive belts
-Clutch operation (if equipped)